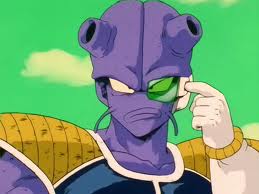 Cui
is one of
Frieza
's top soilders. Cui is first seen on one of Frieza's operating planets telling Vegeta that Frieza was already on Planet Namek looking for the
Dragon Balls
. After Vegeta leaves in anger Cui travels to
Namek
to stop
Vegeta
. In his fight with Vegeta (although he was utterly outclassed) he pretended that he saw Frieza to trick Vegeta and while Vegeta was distracted he did a energy wave barrage but Vegeta survived the attack and killed Cui with the Dirty Fireworks attack.
Cui's power level is stated to be 18,000 which is equal to Vegeta's power level when he first came to Planet Earth.
Ad blocker interference detected!
Wikia is a free-to-use site that makes money from advertising. We have a modified experience for viewers using ad blockers

Wikia is not accessible if you've made further modifications. Remove the custom ad blocker rule(s) and the page will load as expected.