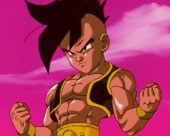 Majuub
is the result of the fusion between the innocent Majin Buu and Uub in
Dragon Ball GT
, which creates a much stronger and more muscular version of Uub, who wears Majin Buu's black and yellow vest. He makes his debut on the episode "The Return of Uub" Majuub retains many of Majin Buu's abilities, including the power to turn organic beings into chocolate (and possibly other kinds of matter if he wished). He apparently cannot regenerate, however. He appears several times throughout the series to help ward off some of the most powerful of foes:
Baby
,
Super 17
, and
Syn Shenron
. The name "Majuub" is not used in the original version of the anime or the Blue Water dub. Majuub is much like a good, human-form of Kid Buu, being roughly similar in height and build.
Ad blocker interference detected!
Wikia is a free-to-use site that makes money from advertising. We have a modified experience for viewers using ad blockers

Wikia is not accessible if you've made further modifications. Remove the custom ad blocker rule(s) and the page will load as expected.